The 2021 Subaru Love Promise Community Commitment Award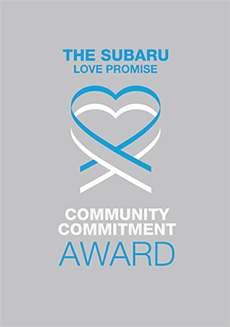 We've been nationally recognized for our dedication to our community and the Subaru Love Promise.
We're honored to receive the 2021 Subaru Love Promise Community Commitment Award. This award nationally recognizes Subaru retailers who are making the world a better place while demonstrating an outstanding commitment to supporting passions and causes in local communities. These efforts are focused in important areas such as the environment, community, health, education, and pets.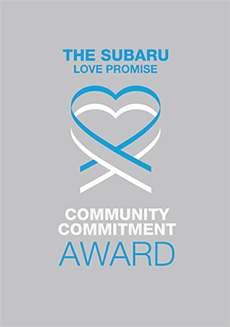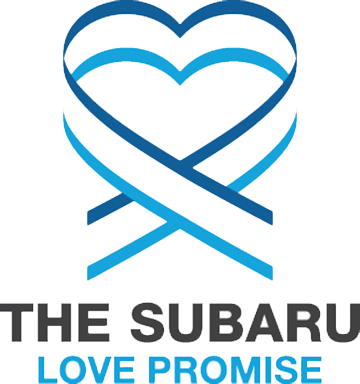 What is the Subaru Love Promise?
Subaru and our retailers believe in making the world a better place and the Subaru Love Promise is our vision of respecting all people. This is our commitment to show love and respect to our customers and to work to make a positive impact in the world.
How is Johnson Subaru of Cary dedicated locally to the Love Promise?
Our Love Promise can be seen in various partnerships with local charities and non-profits. We're grateful for the opportunity to not only be a part of our community, but to serve it as well.
ASPCA, Peak Lab Rescue, SPCA of Wake County
Triangle Land Conservancy, National Parks Adventure
NATIONAL WILDLIFE, Marbles Kids Museum
TEACH FOR AMERICA, Chatham County Council on Aging
Boys and Girls Club of Cary, Children's Flight of Hope, Make a Wish
Love Promise Stories from Johnson Subaru of Cary
Subaru and Johnson Subaru of Cary believe in making a positive impact on the communities in which we live and work. We uphold that belief through our Love Promise Community Commitment. Every month, we select inspiring stories from customers and partners from around our area who strive to support our collective commitment and feature them here
Subaru & the Food Bank provide 277k meals together - Jennifer C
The Food Bank of Central & Eastern North Carolina has seen unprecedented levels of hunger over the last year – and with your support we distributed the equivalent of more than 100 million meals to our 34-county service area over that period. It is a record distribution for the Food Bank but more importantly, these efforts kept our partner agencies stocked, providing an important lifeline for their communities. The Subaru Love Promise Campaign raised enough funds to help the Food Bank provide the equivalent of 277,120 meals. A consistent supply of food from the Food Bank has been key for Tyietha Frazier, founder of Angels on the Move, a partner agency in our New Bern service area. And with food and gas prices on the rise, a visit an agency like Tyietha's has made a huge difference for families, seniors, and individuals in the area."It's crucial. Crucial. Since we've started (our food pantry) every six months we have a different group of people," said Frazier. Many that visit Angels on the Move are reporting it's hard for them to even get essentials at the grocery store for less than $50. The Food Bank's 900 partner agencies have seen a sustained increase of 35% in the number of people visiting them for help throughout the pandemic. Shortages and/or price increases like this impact the Food Bank as well. With higher prices, it takes more resources for the Food Bank to keep food consistently moving into our community. Many thanks to Johnson Subaru of Cary for the support, which makes it possible for the Food Bank to sustain our community partners and provide much needed meals to our friends and neighbors.
---
Johnson Subaru: Helping Hope Take Flight - Pat N
Childrens Flight of Hope provides air transportation to young patients in need of specialized medical care that might otherwise be out of reach due to financial hardship. For the last four years, Johnson Subaru's support of this mission has encouraged a faster and safer recovery for hundreds of children each year. Children such as sweet Edel who is two years old and has flown with Children's Flight of Hope 26 times. She has retinoblastoma, a rare eye cancer, and flies regularly from Salt Lake City to New York to meet with one of the world's top specialists. Without the Love Promise Community Commitment, Children's Flight of Hope wouldn't be able to provide love, joy and a hopeful future to children and families who need it most. Thank you, Johnson Subaru of Cary, for helping get treatment off the ground and helping hope take flight!
---
Subaru Helps Inter-Faith Food Shuttle Inspire Hope - Rachel Q
As part of its Love Promise commitment, Subaru America is donating 100 million meals to Feeding America to help individuals and families facing increased economic stress and food insecurity due to COVID-19. As a Feeding America member food bank, Inter-Faith Food Shuttle is grateful to Subaru America - and our local partner Johnson Subaru of Cary - for enabling our programs to meet the sustained need for hunger relief in the community. Through its investment in Food Shuttle programs like Mobile Markets, Subaru is helping people like Pat. A mother of three, Pat learned about the Food Shuttle's Mobile Markets through her local food pantry. Pat attended one of the program's drive-through events near her home in Siler City, and she brought home groceries and fresh produce for her family. The Food Shuttle's Mobile Markets serve the hardest-hit communities in our seven-county service district and are conveniently located to meet people like Pat at their point of need. Previously serving 6,500 community members before the pandemic, this program has expanded to serve 75,000 individuals each month. By partnering with Subaru, the Food Shuttle can continue to help families, children, and seniors struggling to meet ends meet. Subaru's support helps us ensure that we turn no one away and that every individual seeking assistance can receive the nourishing meals they need. Thank you Johnson Subaru!
---
Johnson Subaru and NCDOT Team Up Against Litter - David H
In response to growing public concern about trash and debris along North Carolina's roadways, the N.C. Department of Transportation established the Adopt-a-Highway program in 1988. As the sponsor of over 570 miles of highway roadside cleanup, Johnson Subaru of Cary and the entire Johnson Automotive Group are the largest sponsors of Sponsor-A-Highway in the United States. Whether you are a local or passing through our area, we are sure you have seen one of their many signs. So, what does that sign mean? Through the Sponsor-A-Highway program, Johnson Automotive subsidizes the costs of cleaning crews contracted by the North Carolina Department of Transportation. Their sponsorship has additionally alleviated North Carolina taxpayers' burden by over $1,000,000 per year, allowing the North Carolina Department of Transportation to allocate those funds to other initiatives. During these difficult times, our state is doing its best to keep up with the strain of demand, despite budget shortages and the obvious other challenges we are all going through. Our roads and highways are the vital arteries that are keeping businesses functioning and families connected. It is more important than ever to have the support of businesses like Johnson Subaru of Cary and Johnson Automotive. They have made a clear statement that as a locally-owned business, they care about the environment in which we all live, work, and play.
---
Sharing the Love with Meals on Wheels Wake County - Amy A
Local Meals on Wheels programs provide daily nutritious meals, nourishing companionship and critical safety checks to America's homebound seniors. Each donation helps these programs enable seniors to age with independence and dignity in their own homes, where they want to be. Since its inception twelve years ago, the Subaru Share the Love Event has helped deliver more than 2.3 million meals to America's seniors! In partnership with Johnson Subaru of Cary, we were able to fill the trunk of a Subaru with Holiday gifts for our homebound senior clients through a "Stuff the Trunk" event held at our headquarters on December 1st. Not only did our event spread the word about Subaru's Share the Love Event, but we were also able to gather so many Holiday gifts to brighten the season of our senior neighbors in need. Thank you Johnson Subaru of Cary!
---
Crosstrek in the time of COVID-19 - Jazzi L
My husband and I were ready to purchase a crosstrek, our second Subaru purchase from this dealership. We have a son who was about 1 year old at the time and we were not leaving the house, except for essentials, because of the risk of being exposed to COVID-19. It seemed like a silly time to go to a dealership to buy a car but Johnson Subaru of Cary had the manual, white crosstrek in stock that my husband wanted so badly, and apparently these don't stick around long. So we called and asked if we could possibly get the car driven to our house for a test drive and without any hesitation Adam Rombroski and Tiffany Rasavong worked together and said, "of course". They organized everything we needed to purchase my husband's car with little contact, and we didn't have to leave the safety of our home, it was amazing that they both went the extra mile for us!
---
Thank You, Johnson Subaru! - Morgan W
I am a single mom to a toddler, so when my air conditioning went out in my Chevy in the middle of June, I was very stressed. Through my research, I found that Subarus were top rated for safety and reliability, so I contacted Johnson Subaru of Cary. I don't live close to Cary, so I had to make a drive out to pick up my car. The customer service manager, Tiffany Rasavong, helped me get everything situated over the phone. I was able to get my trade in settled and approved for my new car quickly and seamlessly. When I arrived after a long road trip with a small child, all of my paperwork was ready for me and I was able to drive off in my new car right away! This was a complete 180 from past experiences I've had at other car dealerships, where buying a car was a much longer and more stressful process. I am so happy with my Subaru Impreza and so very thankful to Tiffany and the rest of the staff at Johnson Subaru that made this happen for me!
---
A homeless mother dog with 8 nursing puppies - Samantha R
On October 8, 2020, a mother dog with her 8 newborn puppies were left behind by their owner with nowhere to go. The puppies were too young to survive on their own, and if they ended up at the shelter they would've faced a high risk of euthanasia. Thanks to the incredible support from Johnson Subaru of Cary, the SPCA of Wake County had the resources to step in immediately! This entire family was rescued, provided with medical care and a full set of vaccines, and taken in by an experienced SPCA foster home for 6 weeks until the puppies were old enough to be weaned. Now every single pup - including mom - is healthy, safe, and ready to go home with their new families. It takes a village and significant resources to rescue and support an entire family of homeless pets. SPCA Wake is incredibly grateful to Johnson Subaru of Cary for partnering with us and providing the means to save lives of homeless pets in our community including these 9 dogs and so many more!
---
Subaru Supports Inter-Faith Food Shuttle - Rachel Q
To help those struggling with hunger during this unprecedented time, Subaru of America and local Subaru retailers--including one of our local partners Johnson Subaru of Cary--have donated $24,782 to Inter-Faith Food Shuttle. This donation supports the Food Shuttle's ongoing efforts to get food to families, children, and seniors affected by the virus and its economic impact. "One in 7 people in North Carolina is faced with hunger, and the COVID-19 pandemic has only increased that need," said L. Ron Pringle, President and CEO of Inter-Faith Food Shuttle. "As COVID-19 continues to impact communities, our programs are innovating and shifting to make sure we can continue to go to the point of need and help those who need it most. We are grateful for this partnership with Subaru to provide meals for our neighbors struggling to make ends meet." "Our team at Johnson Subaru is thrilled to support Inter-Faith Food Shuttle. The Food Shuttle has made a huge impact on our community and continues to assist those in need. We are so happy to contribute and help the organization enhance their capacity to serve," said Anna Haddock, Marketing Assistant at Johnson Automotive. Inter-Faith Food Shuttle is one of the many Feeding America® member food banks receiving donations from Subaru, its independent distributors, and the Subaru network of 633 retailers nationwide. The partnership will also foster relationships with local Feeding America member food banks through ongoing support in the form of food drives, donations and volunteer events. The automaker's donation to Feeding America is a part of the Subaru Loves to Help pillar, the community-focused initiative of the Subaru Love Promise. To learn more about Subaru Loves to Help and the community work Subaru does, visit subaru.com/community.
---
Subaru and Swift Creek Elementary Love the Earth - Megan H
In January of this year, Johnson Subaru of Cary offered to partner with our school (Swift Creek Elementary) on their Subaru Loves the Earth initiative for recycling foil-lined snack wrappers via TerraCycle. Johnson Subaru supplied the collection boxes, and our very eager students and staff supplied the typically non-recyclable wrappers. Over the course of the shortened second half of the 2019-20 school year, our students diverted over 23 pounds of snack wrappers from the landfill! We could not be more proud of our students, or more thankful for Johnson Subaru's partnership. Together we are helping to educate and encourage the next generation of environmental leaders. Thank you!
---