The 2021 Subaru Love Promise Community Commitment Award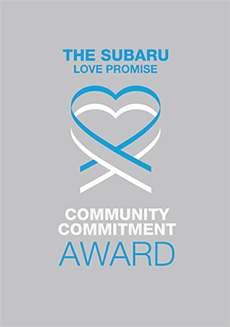 We've been nationally recognized for our dedication to our community and the Subaru Love Promise.
We're honored to receive the 2021 Subaru Love Promise Community Commitment Award. This award nationally recognizes Subaru retailers who are making the world a better place while demonstrating an outstanding commitment to supporting passions and causes in local communities. These efforts are focused in important areas such as the environment, community, health, education, and pets.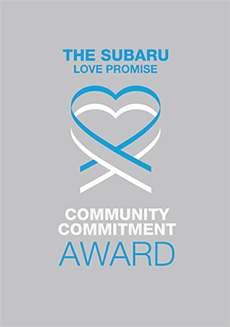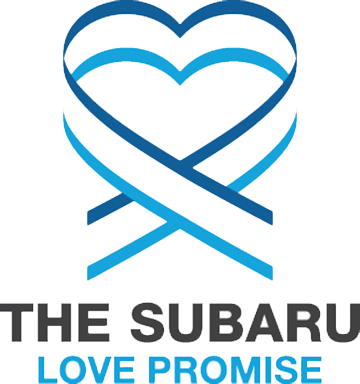 What is the Subaru Love Promise?
Subaru and our retailers believe in making the world a better place and the Subaru Love Promise is our vision of respecting all people. This is our commitment to show love and respect to our customers and to work to make a positive impact in the world.
How is Johnson Subaru of Cary dedicated locally to the Love Promise?
Our Love Promise can be seen in various partnerships with local charities and non-profits. We're grateful for the opportunity to not only be a part of our community, but to serve it as well.
ASPCA, Peak Lab Rescue, SPCA of Wake County
Triangle Land Conservancy, National Parks Adventure
NATIONAL WILDLIFE, Marbles Kids Museum
TEACH FOR AMERICA, Chatham County Council on Aging
Boys and Girls Club of Cary, Children's Flight of Hope, Make a Wish
Love Promise Stories from Johnson Subaru of Cary
Subaru and Johnson Subaru of Cary believe in making a positive impact on the communities in which we live and work. We uphold that belief through our Love Promise Community Commitment. Every month, we select inspiring stories from customers and partners from around our area who strive to support our collective commitment and feature them here
Johnson Subaru: Helping Hope Take Flight - Pat N
Childrens Flight of Hope provides air transportation to young patients in need of specialized medical care that might otherwise be out of reach due to financial hardship. For the last four years, Johnson Subaru's support of this mission has encouraged a faster and safer recovery for hundreds of children each year. Children such as sweet Edel who is two years old and has flown with Children's Flight of Hope 26 times. She has retinoblastoma, a rare eye cancer, and flies regularly from Salt Lake City to New York to meet with one of the world's top specialists. Without the Love Promise Community Commitment, Children's Flight of Hope wouldn't be able to provide love, joy and a hopeful future to children and families who need it most. Thank you, Johnson Subaru of Cary, for helping get treatment off the ground and helping hope take flight!
---
Subaru Helps Inter-Faith Food Shuttle Inspire Hope - Rachel Q
As part of its Love Promise commitment, Subaru America is donating 100 million meals to Feeding America to help individuals and families facing increased economic stress and food insecurity due to COVID-19. As a Feeding America member food bank, Inter-Faith Food Shuttle is grateful to Subaru America - and our local partner Johnson Subaru of Cary - for enabling our programs to meet the sustained need for hunger relief in the community. Through its investment in Food Shuttle programs like Mobile Markets, Subaru is helping people like Pat. A mother of three, Pat learned about the Food Shuttle's Mobile Markets through her local food pantry. Pat attended one of the program's drive-through events near her home in Siler City, and she brought home groceries and fresh produce for her family. The Food Shuttle's Mobile Markets serve the hardest-hit communities in our seven-county service district and are conveniently located to meet people like Pat at their point of need. Previously serving 6,500 community members before the pandemic, this program has expanded to serve 75,000 individuals each month. By partnering with Subaru, the Food Shuttle can continue to help families, children, and seniors struggling to meet ends meet. Subaru's support helps us ensure that we turn no one away and that every individual seeking assistance can receive the nourishing meals they need. Thank you Johnson Subaru!
---
Johnson Subaru and NCDOT Team Up Against Litter - David H
In response to growing public concern about trash and debris along North Carolina's roadways, the N.C. Department of Transportation established the Adopt-a-Highway program in 1988. As the sponsor of over 570 miles of highway roadside cleanup, Johnson Subaru of Cary and the entire Johnson Automotive Group are the largest sponsors of Sponsor-A-Highway in the United States. Whether you are a local or passing through our area, we are sure you have seen one of their many signs. So, what does that sign mean? Through the Sponsor-A-Highway program, Johnson Automotive subsidizes the costs of cleaning crews contracted by the North Carolina Department of Transportation. Their sponsorship has additionally alleviated North Carolina taxpayers' burden by over $1,000,000 per year, allowing the North Carolina Department of Transportation to allocate those funds to other initiatives. During these difficult times, our state is doing its best to keep up with the strain of demand, despite budget shortages and the obvious other challenges we are all going through. Our roads and highways are the vital arteries that are keeping businesses functioning and families connected. It is more important than ever to have the support of businesses like Johnson Subaru of Cary and Johnson Automotive. They have made a clear statement that as a locally-owned business, they care about the environment in which we all live, work, and play.
---
Sharing the Love with Meals on Wheels Wake County - Amy A
Local Meals on Wheels programs provide daily nutritious meals, nourishing companionship and critical safety checks to America's homebound seniors. Each donation helps these programs enable seniors to age with independence and dignity in their own homes, where they want to be. Since its inception twelve years ago, the Subaru Share the Love Event has helped deliver more than 2.3 million meals to America's seniors! In partnership with Johnson Subaru of Cary, we were able to fill the trunk of a Subaru with Holiday gifts for our homebound senior clients through a "Stuff the Trunk" event held at our headquarters on December 1st. Not only did our event spread the word about Subaru's Share the Love Event, but we were also able to gather so many Holiday gifts to brighten the season of our senior neighbors in need. Thank you Johnson Subaru of Cary!
---
Crosstrek in the time of COVID-19 - Jazzi L
My husband and I were ready to purchase a crosstrek, our second Subaru purchase from this dealership. We have a son who was about 1 year old at the time and we were not leaving the house, except for essentials, because of the risk of being exposed to COVID-19. It seemed like a silly time to go to a dealership to buy a car but Johnson Subaru of Cary had the manual, white crosstrek in stock that my husband wanted so badly, and apparently these don't stick around long. So we called and asked if we could possibly get the car driven to our house for a test drive and without any hesitation Adam Rombroski and Tiffany Rasavong worked together and said, "of course". They organized everything we needed to purchase my husband's car with little contact, and we didn't have to leave the safety of our home, it was amazing that they both went the extra mile for us!
---
Thank You, Johnson Subaru! - Morgan W
I am a single mom to a toddler, so when my air conditioning went out in my Chevy in the middle of June, I was very stressed. Through my research, I found that Subarus were top rated for safety and reliability, so I contacted Johnson Subaru of Cary. I don't live close to Cary, so I had to make a drive out to pick up my car. The customer service manager, Tiffany Rasavong, helped me get everything situated over the phone. I was able to get my trade in settled and approved for my new car quickly and seamlessly. When I arrived after a long road trip with a small child, all of my paperwork was ready for me and I was able to drive off in my new car right away! This was a complete 180 from past experiences I've had at other car dealerships, where buying a car was a much longer and more stressful process. I am so happy with my Subaru Impreza and so very thankful to Tiffany and the rest of the staff at Johnson Subaru that made this happen for me!
---
A homeless mother dog with 8 nursing puppies - Samantha R
On October 8, 2020, a mother dog with her 8 newborn puppies were left behind by their owner with nowhere to go. The puppies were too young to survive on their own, and if they ended up at the shelter they would've faced a high risk of euthanasia. Thanks to the incredible support from Johnson Subaru of Cary, the SPCA of Wake County had the resources to step in immediately! This entire family was rescued, provided with medical care and a full set of vaccines, and taken in by an experienced SPCA foster home for 6 weeks until the puppies were old enough to be weaned. Now every single pup - including mom - is healthy, safe, and ready to go home with their new families. It takes a village and significant resources to rescue and support an entire family of homeless pets. SPCA Wake is incredibly grateful to Johnson Subaru of Cary for partnering with us and providing the means to save lives of homeless pets in our community including these 9 dogs and so many more!
---
Subaru Supports Inter-Faith Food Shuttle - Rachel Q
To help those struggling with hunger during this unprecedented time, Subaru of America and local Subaru retailers--including one of our local partners Johnson Subaru of Cary--have donated $24,782 to Inter-Faith Food Shuttle. This donation supports the Food Shuttle's ongoing efforts to get food to families, children, and seniors affected by the virus and its economic impact. "One in 7 people in North Carolina is faced with hunger, and the COVID-19 pandemic has only increased that need," said L. Ron Pringle, President and CEO of Inter-Faith Food Shuttle. "As COVID-19 continues to impact communities, our programs are innovating and shifting to make sure we can continue to go to the point of need and help those who need it most. We are grateful for this partnership with Subaru to provide meals for our neighbors struggling to make ends meet." "Our team at Johnson Subaru is thrilled to support Inter-Faith Food Shuttle. The Food Shuttle has made a huge impact on our community and continues to assist those in need. We are so happy to contribute and help the organization enhance their capacity to serve," said Anna Haddock, Marketing Assistant at Johnson Automotive. Inter-Faith Food Shuttle is one of the many Feeding America® member food banks receiving donations from Subaru, its independent distributors, and the Subaru network of 633 retailers nationwide. The partnership will also foster relationships with local Feeding America member food banks through ongoing support in the form of food drives, donations and volunteer events. The automaker's donation to Feeding America is a part of the Subaru Loves to Help pillar, the community-focused initiative of the Subaru Love Promise. To learn more about Subaru Loves to Help and the community work Subaru does, visit subaru.com/community.
---
Subaru and Swift Creek Elementary Love the Earth - Megan H
In January of this year, Johnson Subaru of Cary offered to partner with our school (Swift Creek Elementary) on their Subaru Loves the Earth initiative for recycling foil-lined snack wrappers via TerraCycle. Johnson Subaru supplied the collection boxes, and our very eager students and staff supplied the typically non-recyclable wrappers. Over the course of the shortened second half of the 2019-20 school year, our students diverted over 23 pounds of snack wrappers from the landfill! We could not be more proud of our students, or more thankful for Johnson Subaru's partnership. Together we are helping to educate and encourage the next generation of environmental leaders. Thank you!
---
A Graduation Celebration - Stephanie T
When Children's Flight of Hope made this video in 2014, we were thrilled for Justin and hoped his future would stay cancer-free. Justin was diagnosed with neuroblastoma at age 3 and given a 30% chance of survival from the cancer that had invaded his neck, chest, pelvis, abdomen, eye, brain and bone marrow. He fought through several years of treatment and discouraging relapses, but ultimately Justin conquered the disease. Though creating this video left us inspired by Justin's journey, imagine our excitement this spring when we received Justin's high school graduation announcement! He has grown into a successful young man and still lives free from the cancer that threatened his life more than a decade ago. At Children's Flight of Hope, these success stories are at the heart of our mission. But that mission wouldn't be possible without generous donors such as Johnson Subaru of Cary. We're incredibly grateful for their support in "Share the Love" over the past several years—it is literally saving lives. Justin's mom told us, "He is a true warrior and my hero. I'm looking into his future when I thought he didn't have one... None of it would have been possible without Children's Flight of Hope that got us from home in Charleston, SC to New York City where Justin's team of doctors were. Thank you so very much." We share that thanks with Johnson Subaru of Cary as they partner with us in bringing hope and healing to children with serious medical conditions. Together, we fly for their lives.
---
The Next Adventure - Andrea Lytle P
When I was diagnosed with ALS in May 2014 at the age of 33, I assumed that all my adventures were behind me. I thought that each day would be the best one I had left, as the disease took my life away, one ability and dignity at a time. ALS, also known as Lou Gehrig's disease, is a neurological condition that typically leads to death in 2-5 years. In that time, we lose our ability to walk, talk, eat, and eventually breathe as we become fully paralyzed and totally dependent on others and machines. Given the rate of my early progression, I figured I wouldn't be around long. In eight months, I went from completing a half Ironman triathlon to walking with a cane after I fell in the middle of a downtown street in DC. My voice changed too – from normal and confident to halting and slurred. That's when we bought our first Subaru, a used 2007 Outback, when it became clear that I could no longer get around by walking, biking, or taking the Metro. Simply put, we just looked for the safest, most reliable car we could afford because we were grasping for something – anything – that seemed certain. I realized that if there was anything I still wanted to do in this life, I needed to do it now, before my body failed me. I decided to do one last triathlon so we splurged on a recumbent trike – three wheels since I was no longer steady on two. I loved how it fit right inside our rugged little Outback, ready for one last adventure. The Ramblin' Rose triathlon in Chapel Hill turned out to be the most extraordinary experience – we came in last by almost an hour but 100 people stayed to cheer us in! I kept riding my trike, waiting for my body to decline. Instead, the fresh air and exercise made me feel stronger and more alive. I kept up with my friend training for her first half marathon, so I decided to do one too. And then a marathon. And another, and another. We moved back to my hometown of Raleigh to be closer to my parents. I kept riding, exploring all the new trails that have been built since I was a kid. Those were new adventures I never even saw coming. Last year, on our 10th wedding anniversary, we bought our first new car: a 2019 Subaru Outback from Johnson Subaru of Cary. It was a celebration of everything we had overcome and all that we have to look forward to. In May 2019, I reached my 5th anniversary of living with ALS – a milestone that only 20% of people live to see. I set a crazy goal of becoming the first person with ALS to do a marathon in all 50 states AND to create a documentary about the journey. Johnson Subaru graciously gave some support to our project, our first corporate partner. I did 9 marathons in 2019, and 4 in the first two months of 2020. I was up to 17 states with 13 more marathons planned for 2020 (crazy yes, but remember, we don't know how long my life is going to be). And then, Coronavirus. Funny, I always assumed that *I* would be the limiting factor in my quest, that my body wouldn't hold up. I never dreamed that there would be a lack of *races.* But here we are. Instead, I'm triking 5 miles a day in circles around our cul-de-sac, trying to keep my body strong enough to do marathons in the remaining 33 states. I've had to re-learn the lessons I learned through my ALS diagnosis – maybe this will help someone else: We are never promised tomorrow; all we have is today. All we can do in the swirl of uncertainty is to hang on, love our people, care for ourselves, and plan for the worst while hoping for the best. Be open to the next adventure, even if it's nothing like what you pictured. Stay strong, friends.
---
Johnson Subaru 'Shares the Love' with CFOH - Lori S
Children's Flight of Hope is rounding out three decades of providing air transportation for children in need of specialized medical care. As we reflect upon the past 29 years, 'Community' consistently comes to mind. The families we serve do not have a choice in the conditions they face, however, our partners do have a choice in the missions they serve. We are honored that Johnson Subaru of Cary chose to support the CFOH mission through its Subaru Share the Love program. The results of these philanthropic efforts contributed to our delivery of 1,336 flights for children in 2019. As we commit to existing families for the entirety of their children's treatments, the support of Subaru also allow us to welcome new families in 2020. CFOH assists children such as one-year old, Edel, who travels from Eagle Mountain, Utah, to Memorial Sloan Kettering Cancer Center to treat Retinoblastoma. Her parents, Spencer and Abigail, note that our services "have been such a light during so many difficult and trying months. It has been such a blessing to our family, and has given us the time and energy to focus on finding the correct treatments and doctors to help save our little princess. Thank you for helping our daughter travel to receive life-saving treatments. Because of you and your generosity, our daughter is well on her way to being cancer free and has a chance at living a normal and happy life. We are forever indebted to you and your service." These words of gratitude extend to the entire CFOH community especially those who supported the Johnson Subaru of Cary's Share the Love event.
---
SPCA of Wake County - Roxy's Story - Sarah S
From providing toys to donating funds for lifesaving care, Johnson Subaru of Cary has been there for the homeless pets at the SPCA of Wake County. Roxy, a 12-year-old dog, featured in this photo with her new mom, came into SPCA Wake's care when another local shelter reached out to us for help. Roxy was suffering from severe dental disease and also needed to be evaluated for a heart murmur, requiring resources that the shelter did not have. Because of supporters like Johnson Subaru, we were able to take Roxy into our care, and, on Subaru's first-ever National Make A Dog's Day, Roxy was adopted and sent home with her "New Parent Kit," also generously donated by Johnson Subaru. We are so grateful for Johnson Subaru's partnership and know with their continued support, we can make an even greater impact in the future for the pets and people in need in our community.
---
Books! - Hannah W
Our school is blown away by the generosity of Johnson Subaru of Cary. They graciously brought boxes of brand new award winning books to our school! Student and teacher faces lit up with excitement and curiosity as they were handed out. Students gathered around the books with "oohs" and "ahs". The selected books fit perfectly with student interests and even a variety of grade level standards. Illustrations and stories are beautiful and enriching. These books have been an amazing addition in our classroom libraries and continue to build a love for reading in our students! Thanks again to Johnson Subaru of Cary for these amazing books!
---
Make a Dog's Day - Andy A
Subaru is proud to establish the first-ever National Make A Dog's Day October 22nd. As part of Subaru Loves Pets month, we're inviting all dog lovers to do something extra special for their furry best friends. Plus, Subaru will be focusing our efforts on helping the hardest-to-adopt shelter Dogs –those with special needs-find homes. Get ready to fall in love withThe Underdogs. #MakeADogsDay Meet Gabi! Gabi has been at the Humane Society of NWGA (Northwest Georgia) for seven years. If you asked the volunteers to pick their favorite animal at the shelter, Gabi would win hands down. She does not do well with dogs or cats so must be the only animal in an adult only family. She loves people and will bond very quickly to you. Gabi would make someone a great companion. She is waiting patiently for her forever home. If you have room in your heart and your home for this sweet girl then please fill out an adoption application, highlight and right click this link: https://hsnwga.org/adoption/application-for-adoption/?fbclid=IwAR2Ie18p6U3ryKi-niIuIZFTd-waD98xrySl7IJmiRBXE239WP7dpODubiU #MakeADogsDay #SubaruLovesPets #TheUnderdogs
---
Johnson Subaru Provides Flights for Sick Kids - Lori S
In its 5th anniversary, the popular Triangle Hops for Hope beer competition benefiting Children's Flight of Hope (CFOH) recently held its most successful event to date. Sponsored by Johnson Subaru of Cary, the event raised over $160,000 to provide air transportation for children in need of specialized medical care. This year, 26 corporate teams were paired with 24 local breweries to create an original beer. Participants showcased their creations to 1,500 attendees on September 14 at Coastal Credit Union Midtown Park in North Hills. This year's expanded event included an exciting flyover by the Bandit Flight Team, three bands on stage, a vendor village, local food trucks, and games on the lawn for kids. Children's Flight of Hope has provided a record 1,040 flights to date in 2019. We assist children like Zeke (pictured), who requires specialized medical care far from his home. His dad, Derek, recently shared his gratitude: "There are so many difficulties to having a child with cancer, but having CFOH come alongside us and purchase our flights has alleviated one of the burdens. We don't have to worry about whether we can afford the flights, whether the travel makes the trial an impossibility or anything else, because we know that CFOH has our backs. When we don't have to worry about logistics, we are more free to love." Thank you, Johnson Subaru, for supporting our efforts to assist families like these during a time when they need it most.
---
Make-A-Wish Eastern North Carolina - Janis N
Madison's wish to be a marine animal trainer was an experience she'll never forget, and by the looks of it, she's a natural! Madison got to spend two days behind the scenes with trainers in Key Largo learning all the special tricks! Madison's mom shared the following. "This experience was truly unforgettable. Madison now has a goal for the future to be an animal trainer too!" A wish helps children see the impossible as possible, it helps them look beyond their illness. Thanks to the support of partners like Johnson Subaru of Cary, more life-changing wishes, just like Madison's, are being granted in eastern North Carolina! We are so grateful for their support! To learn more about how YOU can get involved in granting local wishes - please visit www.eastnc.wish.org
---
LLS & Subaru deliver touch of home to Family House - Meredith J
Katelyn Paul, from Johnson Subaru, and Meredith Johnson from The Leukemia & Lymphoma Society, NC Chapter delivered 5 boxes of blankets to the NC SECU Family house at UNC hospitals on July 24th. We were greeted by Janice McAdams, Executive Director for Family House, with a warm smile and big enthusiasm for receiving the blankets again. She exclaimed "we love to get the call that Subaru blankets are being delivered!" While the Family House is undergoing a major renovation currently she shared how much the residents truly appreciate these blankets and give them a touch of home while staying with a loved one in the hospital. She can't wait for next year when we will be able to deliver blankets to a beautiful new facility and the impact these deliveries have with their staff and families year after year!
---
Johnson Subaru Gives Hope to Children In Need - Haley T
Children's Flight of Hope is a nonprofit organization dedicated to providing air transportation for children to access specialized medical care. Over the last few years, we have been honored recipients of the "Share the Love" event during the holiday season, which has grown each year and has helped our organization provide nearly 250 flights for ill and injured children. Children's Flight of Hope, alongside our devoted partner Johnson Subaru of Cary, is changing the way kids with serious illnesses and injuries are treated through our mission of love, joy, and hope. Providing air transportation for young patients and their families gives access to specialized medical care that might otherwise be out of reach, which in turn encourages faster and safer recoveries. We are so grateful to Subaru for using their platform and promise to bring awareness of our mission to their customers, and raise money to support the children and families we serve, like Christian's parents who wrote to us: "We just wanted to take the time to tell you Thank You! We appreciate the generous support you've provided our family over the last year. Our lives would be very different without you. Honestly, I don't know if we would ever have been able to seek this lifesaving treatment for our son without your organization. You gave us the means and the courage to travel from our home to his treatment hundreds of miles away. We pray God blesses each of you just as you have blessed our family!"
---
Peak Lab Rescue Loves Johnson Subaru - Sharon G
In 2018, Peak Lab Rescue celebrates 10 YEARS of saving Lab and Lab Mixes from abuse, neglect, abandonment and high-kill shelters throughout North Carolina. Great partners like Johnson Subaru have helped us save more than 1,000 dogs this year. By collecting monetary donations and dog care items throughout the month of November, Subaru supported our cause and made a difference right here in our community. Our service area was hit by not one but TWO hurricanes this Fall, displacing many pets. Peak Lab Rescue took in more than 100 dogs who were left homeless by Hurricanes Florence and Michael. The dog food, beds, leashes, collars, and toys collected during the Subaru Share the Love event will be used by these dogs while they await permanent adoption. Collecting these donations at the dealership allowed us to thank employees personally for taking the time to care. We brought along Porter, a Black Lab saved by Peak Lab Rescue. His family owns TWO Subarus! Porter enjoyed meeting staff as well as customers and took home his very own squeaky Subaru toy to play with. Thanks again, Johnson Subaru, for making this community a special place to live.
---
LLS and Johnson Subaru share the warmth! - Meredith J
Katelyn Paul, from Johnson Subaru of Cary, and I arrived at the SECU Family House at UNC Hospitals together and unloaded the blankets provided by Subaru in to the newly renovated care facility for families needing to stay near the hospital during a loved one's extended hospital stay. We were welcomed by the very warm and caring development staff and coordinators at Family House! While unloading the blankets a sweet woman from Greenville, NC and her grandson, who have been staying at Family House while her husband is being treated for lymphoma, stopped to talk with us. We listened to her story, give her a blanket for him, and shared LLS literature. She was very hopeful and grateful! Family House guests look forward to receiving the amazing blankets for a piece of comfort during their stay or warmth during treatment. The staff at Family House look forward to this wonderful gift from our partnership!
---
National Parks Adventures...indoors! - Emily B
Marbles Kids Museum and Johnson Subaru's experiential partnership brings MacGillivray Freeman's National Parks Adventures to the giant screen and adventure play to the museum! Through 3-D technology in Marbles IMAX and back-to-basics pretend play in our museum, kids and families have created their own adventures to the Grand Canyon, Yellowstone and Yosemite. Research shows that when children become truly engaged with the natural world at a young age, the experience is likely to stay with them in a powerful way—shaping their subsequent environmental path and growing up to be adults who care more about the environment! Thanks to Johnson Subaru, Marbles has been able to offer engaging and accessible opportunities for families to experience the great outdoors - without having to leave Raleigh!
---
Subaru Loves Peak Lab Rescue - Sharon G
Peak Lab Rescue is proud to work with Johnson Subaru to help save Labs and Lab Mixes from homelessness and high-kill shelters in our state. Thanks to great partners like Subaru, this year we will save nearly 800 dogs! We've worked together in lots of ways - The Subaru Loves Pets program provided us with lots of New Adopter Kits full of goodies to send home with dogs starting their new life as part of a family. And Adoption Events at the dealership are a great way to meet lots of new adopters. Our "Stuff the Subaru" donation drive resulted in an Outback full of much needed dog food and supplies. And most of all, as Title Sponsor of the "Raise the Woof Comedy Show", Subaru helped us raise nearly $5,000 to save Labs and Lab Mixes from abuse, neglect, abandonment and high-kill shelters throughout North Carolina. Subaru is clearly dedicated to serving our community. Our partnership has changed the lives of lots of Labs in need and it's great to know that we can always count on them!
---
Subaru and NWF Loves the Earth - Ryan R
It's summer break at school but the garden is going strong!
---
Subaru and NWF Loves the Earth - Courtney W
We are doing great with the garden. Here are some early pictures of students tending to the garden. The 3rd grade teachers have adopted this garden for our school.
---
LLS helps Johnson Subaru spread love & warmth - Meredith J
I met Katelyn Paul and Chad Chapman both of Johnson Subaru of Cary at the SECU Family House at UNC Hospitals. Family House is a home away from home for patients and families of patients that live more than 50 miles away but need to be near the hospital for an extended period for treatment. Janice Ross of Family House was very enthusiastic and excited to receive the blankets, craft kits and care cards from Johnson Subaru. We got to see her pass out a blanket and care card to a caregiver as she passed by and the joy and sweetness of her face showed how much it meant to her.
---
Johnson Subaru's vision of family and pets - jacklyn k
Thanks to Johnson Subaru's vision of family and pets, they have made it possible for us to hold Jackie's Puppapalooza for the last four years. This event helps the canine community come together for a dog-friendly and family event. Puppapalooza is an afternoon of fun and education; homeless dogs are adopted, money is raised to help the SPCA, with local pet stores and vets volunteering their expertise. Our goals are to help pets find their forever homes and inform pet parents on the steps to creating a happy, healthy home. The event gives everyone the opportunity to engage their pet in a fun and safe environment. Johnson Subaru is dedicated to families and their pets, and their support has helped this event grow every year- thanks to them, we've grown to expand to a new, larger space and will be hosting Puppapalooza in 2018 at the Dorton Building at the NC Fairgrounds. We hope to see you there!
---
Johnson Subaru of Cary Gives the Gift of Hope - Chase M
Children's Flight of Hope is a locally based non-profit that provides air transportation for children to access specialized medical care across the country. When families can't afford to travel to the best care, CFOH is there for them, thanks to our supporters like Johnson Subaru of Cary. As a longtime partner, Johnson Subaru has sponsored CFOH's special events and chosen CFOH as its hometown charity of choice for the popular Subaru Share the Love event for the past four years, raising over $11,000 in 2016 alone. Johnson Subaru's financial gifts to CFOH give children access to life-changing medical treatment that they would otherwise have to go without. With Children's Flight of Hope, Johnson Subaru gives these children the most important gift of all: the gift of hope. Over the years, Johnson Subaru of Cary has raised enough money to provide more than 60 flights for sick and injured children and their families. They have truly changed the lives of members of our community, and helped ensure that all children have access to the care they need.
---
Chatham County Council on Aging - Melanie G
In December, 2016 the Chatham County Council on Aging hosted a Subaru Rodeo! For the event, Johnson Subaru let us display a brand new Outback, while we had a local rodeo performer do tricks with animals, we had corn hole, hot chocolate and were selling raffle tickets for a canoe that the Great Outdoor Provision Company of Chapel Hill donated. Johnson Subaru has partnered with the Chatham County Council on Aging for the last several years for the Meals on Wheels campaign and has even supported our volunteers by sponsoring our annual Volunteer Dinner. We are grateful for our relationship with Johnson Subaru and this year, our Meals on Wheels program was the recipient of a wonderful grant through Meals on Wheels of America and the Subaru Share the Love campaign. Thank you both!
---
Protecting our Natural Treasures - Katelyn P
Working with Marbles Kids Museum, Johnson Subaru of Cary is extremely proud to be a sponsor of the National Parks Adventure documentary. Described as an "action-packed expedition that will inspire the adventurer in us all," The documentary educates viewers the importance of preserving our national parks. Along with Marbles and Subaru of America, Johnson Subaru of Cary is excited to support the work of this wonderful film.
---
Johnson Subaru Loves Learning! - Katelyn P
This summer, Johnson Subaru of Cary was proud to partner with Apex Elementary School for Subaru Loves Learning. Johnson Subaru knows the deepest learning happens when students have the tools they need to inspire new ways of thinking and seeing the world. Through the Subaru Loves Learning initiative, we were able to donate award winning science books to nearby Apex Elementary School. We were told by the teachers that the books would be great for the non-fiction book reports that the students are required to write!
---
Subaru Loves Learning Book Drive August 1 - 31 - Danielle S
Join us in our Subaru Loves Learning initiative during the month of August! We are partnering with the American Association for the Advancement of Science (AAAS) in donating science books to Conn Active Learning and Technology Magnet Elementary School in the Wake County Public School System. All of the books that will be donated have been recognized by AAAS as some of the best science books in their field. Contact us to learn more information.
---
Subaru Loves the Earth - E-Waste Event - Danielle S
We would like to thank our customers for participating in our E Waste Recycling event during the month of April. With your help, we were able to prevent 2,090 lbs of carbon emissions from polluting the atmosphere. This is equivalent to saving 81 trees, 356 gallons of gasoline, 3,030 plastic bottles, and 13,936 aluminum cans. Thank you for helping strengthen the Subaru Love Promise!
---
April 1-30, 2015 E-Waste Recycling Event - Molly M
Throughout the month of April, we are hosting an E-Waste Recycling Event in our store to collect unwanted electronics. We've arranged to work with a company who will responsibly collect, re-purpose, and recycle your electronic waste. Help us protect our environment. Just show up with your E-Waste and we'll do the rest! The first 50 customers who contribute will receive a complementary environmental badge of ownership. We will accept: LCD Monitors, Cell Phones, Laptops, Tablets, CRTs up to 40 inches, Video Games/Consoles, Fax Machines, DVD/VCR Players, Printers, Computer Peripherals, Switches/Routers, Cords and Wires.
---