The Subaru Share the Love event is among the best instances of the community involvement to be found in the auto industry. All over the country, dealers sign up to do right by their local communities and stay true to the Subaru Love Promise. Over the last two decades, more than 50 million dollars has been donated to the causes many care about, a true indicator of our dedication to improving the lives of those around us.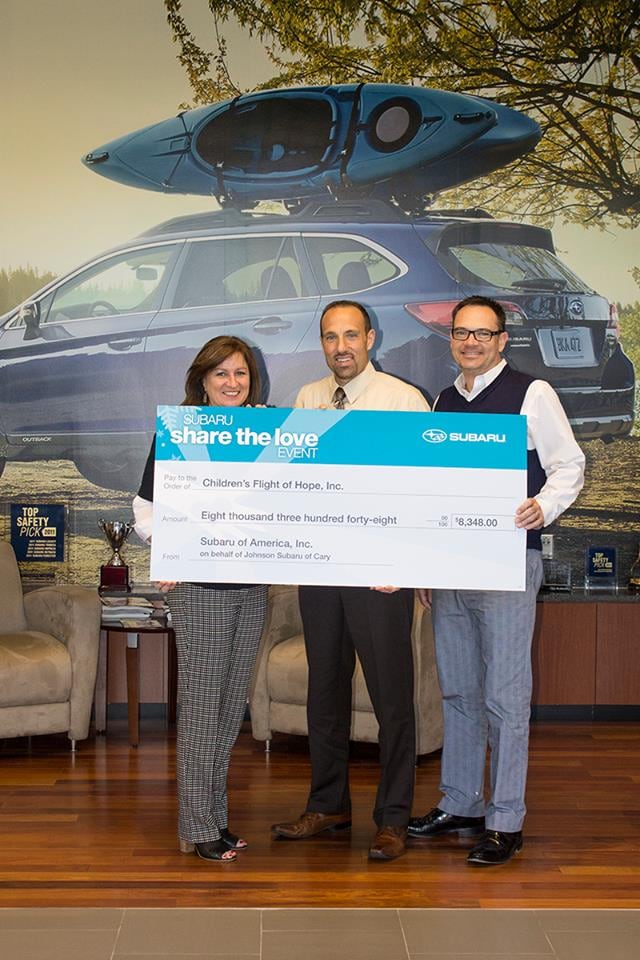 Here at Johnson Subaru of Cary, we're proud to announce that the recent Share the Love event was a huge success, we were able to raise over eight thousand dollars for the Children's Flight of Hope cause. Offering free air transport to and from medical facilities for critically ill and injured children, this charity is incredibly deserving of all of the attention and money they can get. For all of us at Johnson Subaru of Cary, the opportunity to take part in this is a distinct honor, and something we couldn't be more proud to be a part of.
To learn more about Children's Flight of Hope, we highly encourage you to visit their website, the work they do is incredibly inspiring and deserving of attention. To learn more about how the Share the Love event works, come and see us at Johnson Subaru of Cary, 5010 Old Raleigh Rd., Cary, NC. While you're here you can check out our wide selection of new Subaru models and perhaps even find yourself test driving an eye-catching new model.