Thank you for visiting Johnson Subaru online!

To request a test drive appointment, please fill out the form on the right side of this page.
In the 'Comments' box, please indicate the date and time that is most convenient for your test drive, and whether there is a specific new Subaru or used car that interests you.
One of our associates will be in touch with you shortly and ensure that you are well taken care of. Thank you for contacting us!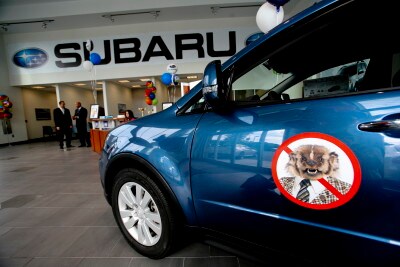 Why Should You Test Drive At Johnson Subaru in Cary, NC
Buying a new car is exciting, and one of the best parts is getting to test drive. The test drive is your chance to find the perfect car for the Raleigh area, and we're here to help. Scheduling your test drive ahead of time gives you time to think about what you need the most when driving in Morrisville or Apex.
Take Your Time
We encourage you to browse our online inventory of new Subaru cars and SUVs, used vehicles and Certified Pre-Owned Subaru models to find the ones that interest you the most. From the sporty Impreza to the functional Forester, we have the options you need. Take your time when browsing, and think about things you want and need from your next Subaru. Think about things that are important to you when driving. Do you need a new Subaru model that's a great daily commuter, packed with technology to improve your drive through Morrisville? Do you need a car that's safe and functional for the family like the 2018 Outback? Bring a list of questions you have, from warranty information to trim levels, no question is too small.
Another helpful tip is to try and test drive all the models you're interested in during the same day. This keeps everything fresh in your mind when comparing each vehicle. Why not bring a friend? Have them ride as a passenger, ask additional questions, and most importantly, they provide a unique perspective!
Let's Get to the Fun Part
Fill out our online form to request a test drive appointment today. We're here to help, so bring your questions and let us make this the best experience possible. We'll ride along with you during your drive, but fear not, we won't use the time to make a pushy sell, we have a "no badgering" policy for a reason! We do encourage you to use the test drive time to pester us with questions, we don't mind!